Right now as we speak, there is a world full of people with gym memberships and martial arts memberships going to waste. There are literally thousands of people all with the same problem, thinking away to themselves why am I no good at this? How come I can't like fitness? Why can't I get good at martial arts? Why am I so uncoordinated?
All these feelings end up in a place where you feel like you're holding people back, or that you just don't have the aptitude to be fit and strong or good at martial arts. When the truth is you just don't have the ATTITUDE. You are just setting yourself up with UNREAL EXPECTATIONS. If you are just starting out in fitness and strength training, the first 2-3 weeks can be super difficult and you will be sore in places that you haven't felt in years. If you are starting out in martial arts or fitness, you will moving your body in a way that is so foreign that you will feel uncoordinated, when the TRUTH is that you are just untrained. Add to that any adjustments in nutrition and your whole lifestyle has been turned upside down.
This transition is a massive culture shock. Give yourself time, show some COURAGE and perseverance and it will all be worth it. If you can approach your training with a growth mindset, you will find the adjustment easier to deal with.
I CAN LEARN ANYTHING I WANT TO
WHEN I AM FRUSTRATED, I PERSEVERE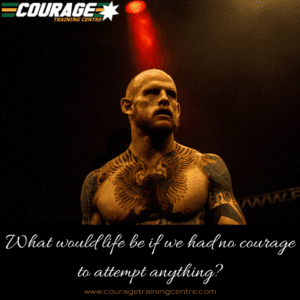 I SEEK OUT CHALLENGES
I ACKNOWLEDGE FAILURE AS LESSONS
I WILL GIVE MY BEST EFFORT
I SEEK OUT INSPIRATION
MY ATTITUDE IS POSITIVE
IF I SUCCEED I AIM HIGHER
GIVING UP IS NOT AN OPTION
I hope this helps someone stick to their goals or persevere on the journey for just a little bit longer.
Happy Training,
Coach Bone!
Fitness, MMA, Kickboxing, BJJ, Boxing.
If you are interested in getting fit, strong and healthy or starting martial arts email us at [email protected] for a free trial everyone at courage is supported with mentoring to help them achieve their own personal goals.